This example of a "retro" Porsche 991 GT3 RS shows what cool things you can do with a partial wrap.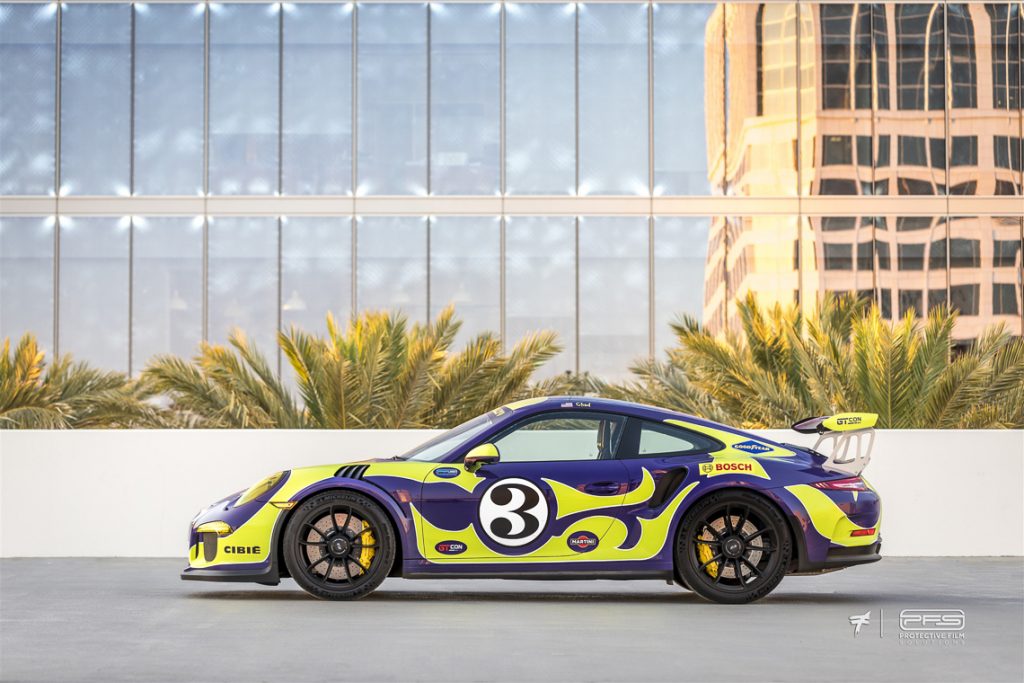 Technically this is a full wrap with a partial wrap on top. This is because the entire car is wrapped with paint protection film. Then, as a second layer and a partial wrap, the Fabulous Seventies design was cut and overlaid on top.
The car is a Porsche 991 GT3 RS brought to us by GTCon. As such, it is the newest of the RS Porsches. It's the newest at the moment, but not for long. There is chatter already about the 2018 RS facelift. But that's the topic of another story. Anyway, there is nothing retro about this car in its stock form.
The stock color is the one that peeks through the hippie design — Ultraviolet. Given this is such a unique color, there is no question that incorporating it into a car wrap design is pretty smart. Not only that, but by doing so you also tie in the door jambs and trunk sills.
Usually, on a car wrap the door jambs and other hidden areas around the trunk and engine compartment remain the original color. This is something that can look kind of awkward. It works with some neutral colors like black and dark grey, but tends to be an eyesore with other colors. For example, if you do a full bright yellow wrap over a royal blue car and leave the door jambs blue, it can look a bit off. You have to pay considerably more money to get a lot of those parts wrapped too, and yet you still can't wrap the engine compartment. By using the original color as part of the car's livery, the door jambs and such are no longer eyesores.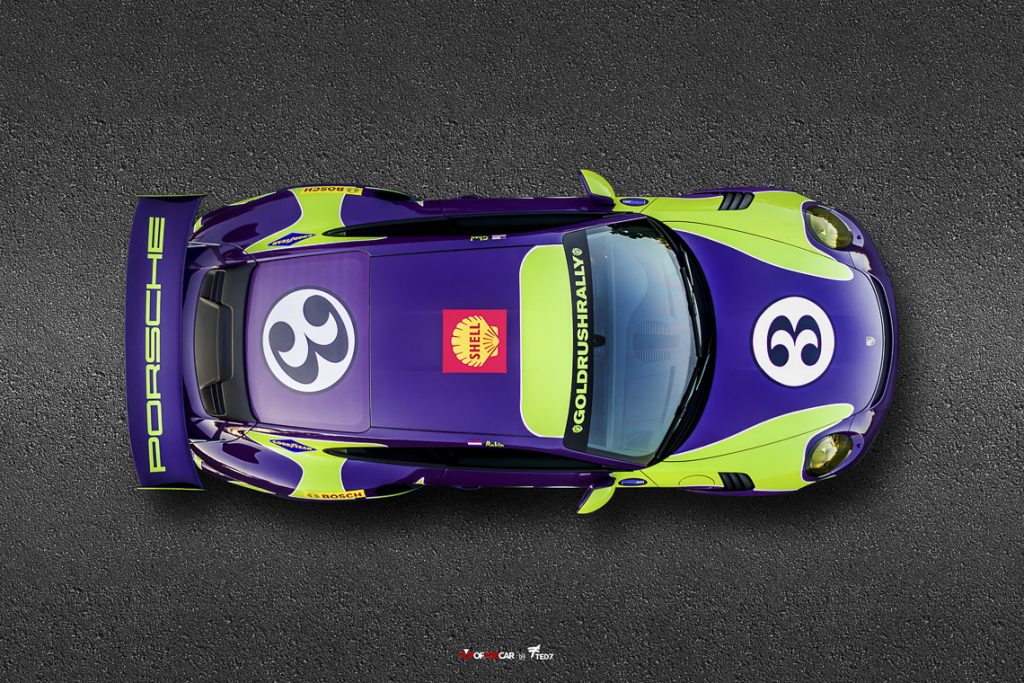 Ultraviolent – Truly Fabulous!
The design is a legit Fabulous 70s artwork. It's all about the details. The logos, like the classic Shell logo on the roof, all scream retro. Those details carry down to the racing numbers. That big "3" is in an unmistakable 70's style.
The car was on display at the PCA/POC event at Auto Club Speedway, California Festival of Speed. It was impossible to miss. Everyone who saw it had to comment on it.
You can create almost anything with a combination of paint protection film, vinyl wrapping material and printed vinyl. All you have to do is bring your idea to the table and let our expert designers bring it to life.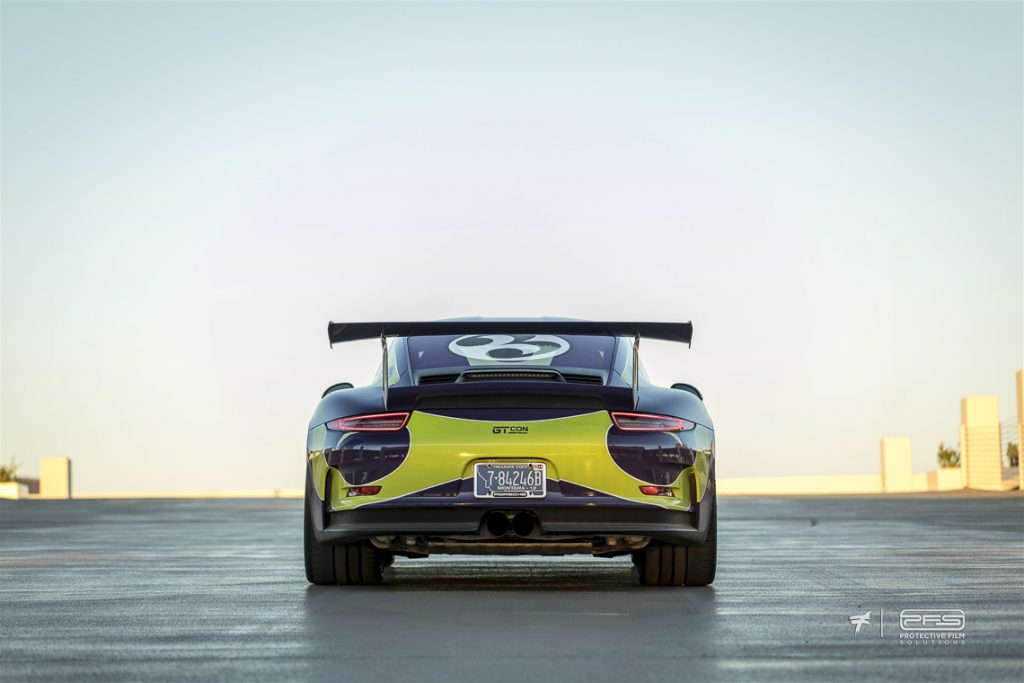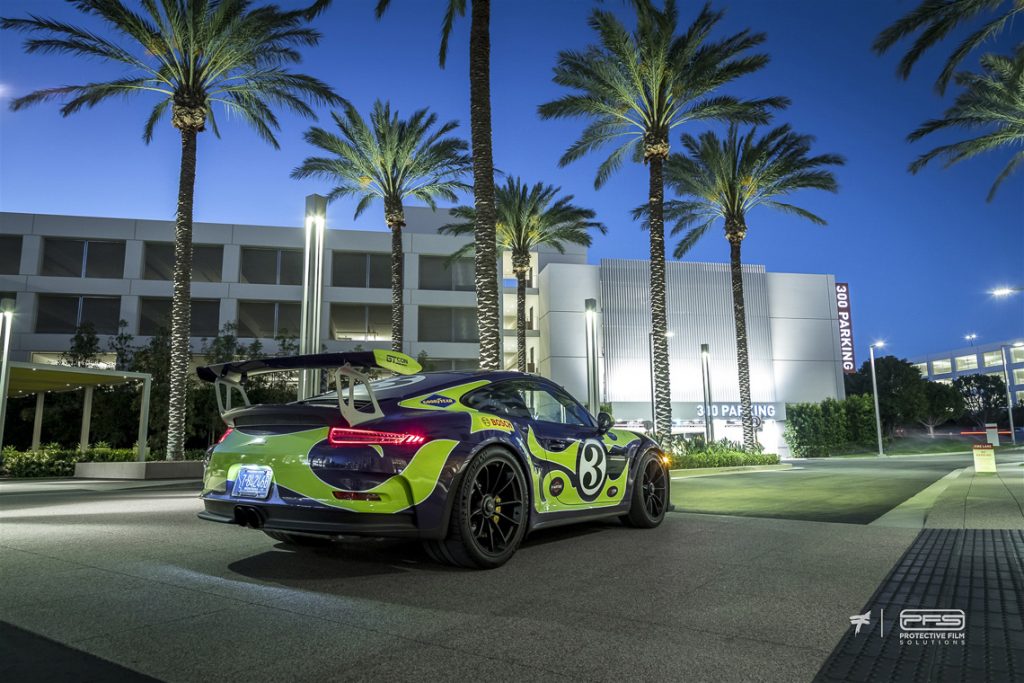 Photos are by Ted 7 Photography. The Top of the Car photo of the Fabulous 70s Porsche 991 GT3 RS can be purchased, along with many others, on his website or the TOTC Facebook Shop.