This is the Lucky Charms Ferrari 488 Spider. Everyone knows all Ferraris are red, except when they're not. Even a yellow Ferrari is still red in its heart.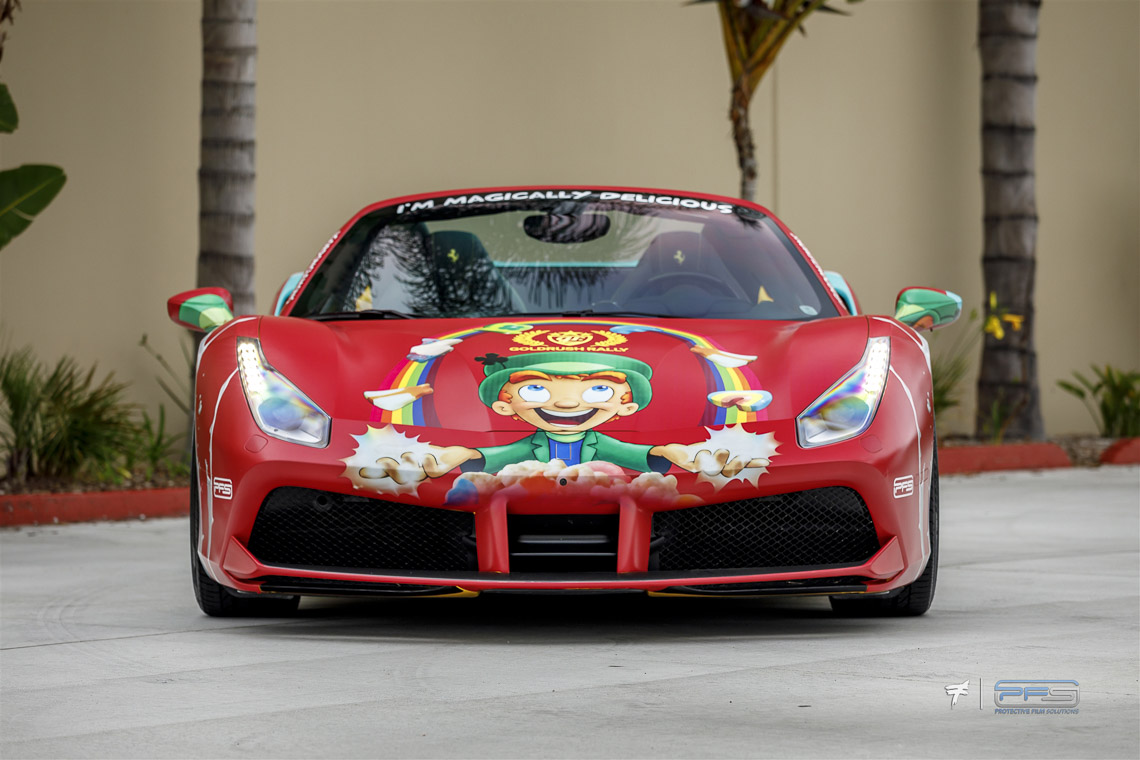 Here we have such example. The Lucky Charms Ferrari 488 Spider started life as Giallo Modena. That's Ferrari's fancy name for the 488's yellow exterior paint.
For goldRush Rally 10, otherwise named GRX, this gorgeous 488 found itself garbed in a satin red base, with what can best be described as the gold pot at the end of the rainbow graphics.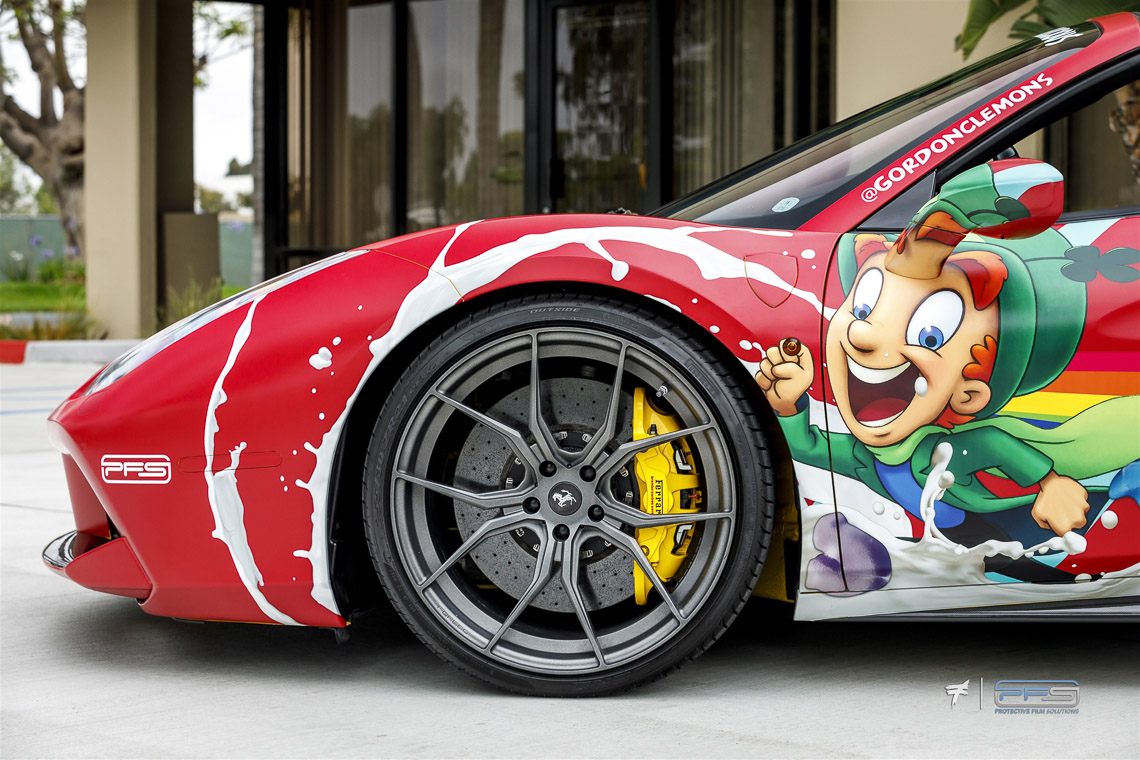 We all remember all the Lucky Charms commercials as kids from the 70's, 80's and 90's. I'm sure at this time you're wondering when did this all begin? I'll save you the Google search. Sir Charms, otherwise known as the L.C. Leprechaun, was created back in 1964.
We pay homage to the lucky leprechaun with this very exciting wrap for goldRush Rally GRX designed by Skepple.
The details are fantastic. Everything is there — From the marshmallows, to the milk, to the custom serving suggestions. This wrap was such a head turner that it won one of the 4 best wraps of the entire GRX.
You can't miss the extra attention to detail either. The wheels are Vorsteiner VFN 504 Nero Forged Monoblock. The windshield is protected with a layer of ClearPlex windshield protection. The Lucky Charms design itself is a full print. Even though the front section looks like a partial wrap over a red base, it's all printed and laminated in satin. The wrap covers every inch of the original yellow Ferrari paint.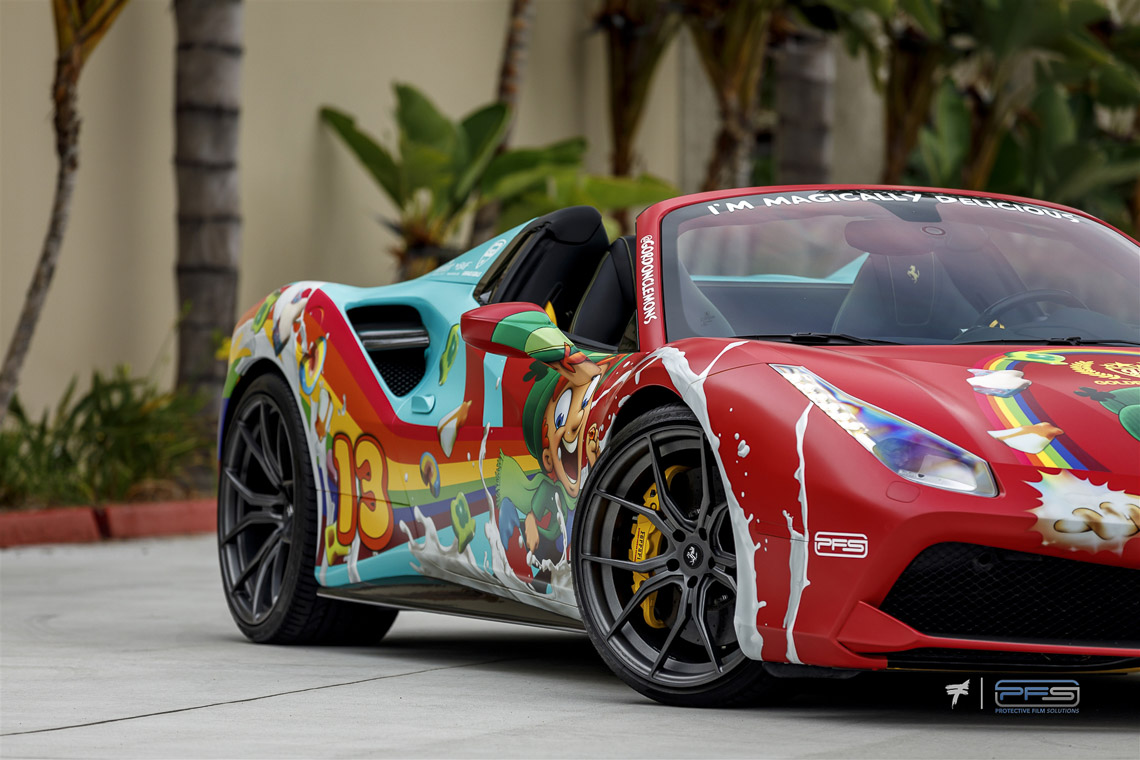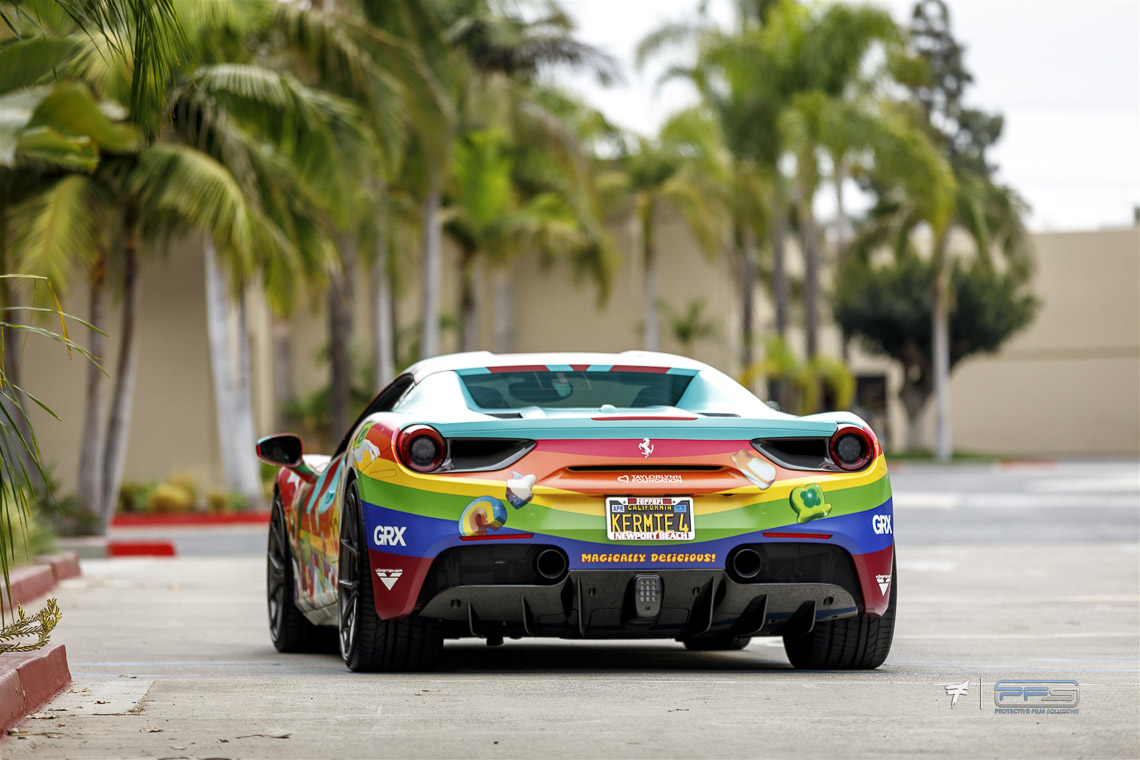 Particularly interesting is the choice of light blue to adorn the rear deck. The blue isn't necessarily a Lucky Charms color, which is predominantly red apart from the colorful marshmallows. However, after a bit of digging through the history of the cereal, I found that the blue was often used on some cereal boxes side panels as well as at the top of Family Size boxes. Essentially, the light blue is as legitimate as Sir Charms himself.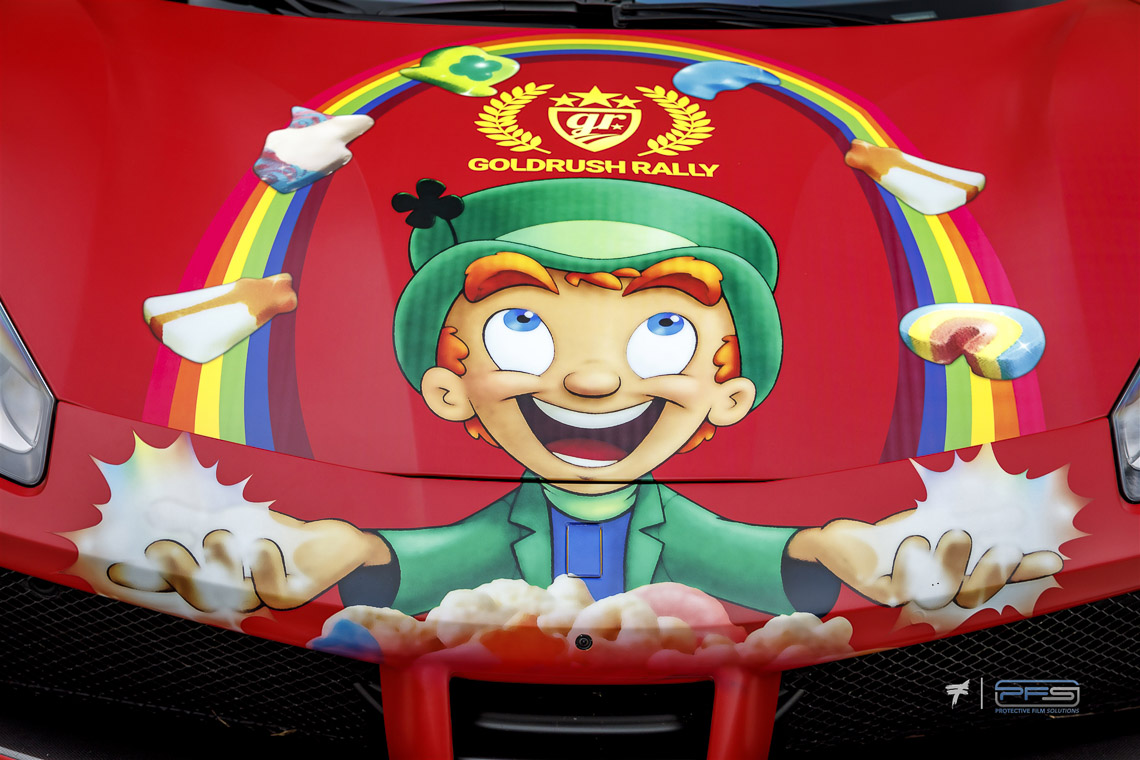 The Lucky Charms Ferrari 488 Spider carved the US roads from Boston to Las Vegas during goldRush Rally 10 GRX 2018 along with the other 100 super cars participants. Earning the prize of one of the best wraps in the field is truly outstanding.
Lucky Charms Ferrari Gallery
Go on! Dream up a design idea for your own super car. We can easily have that idea from your head to a computer screen and then onto your car in less time than you think. Contact us to see what we can do for you.
All photos by Ted 7.