This is a Porsche 918 Spyder Martini with an orange twist! Lots of love and dedication went into this car… and the results speak for themselves.
First, let's list what was done to this gorgeous 918 Spyder
Complete paint correction
Full body Xpel clear film protection
Custom Martini style livery
Ceramic Pro paint coating over the Xpel
Ceramic Pro over all exposed interior carbon fiber
Front skid plate
Now to the details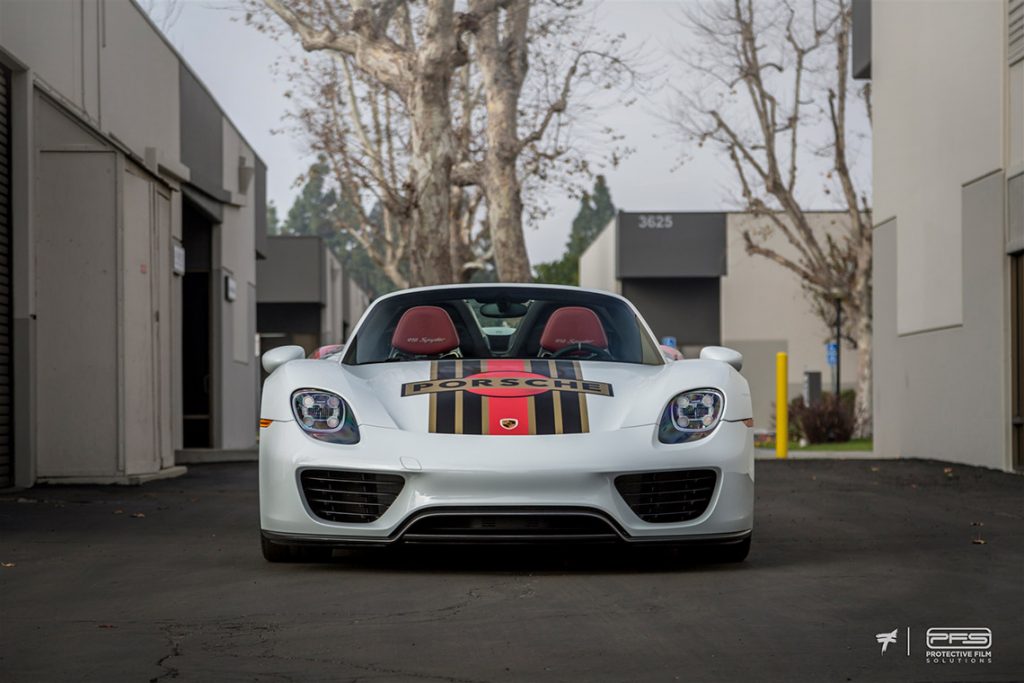 Let's start with the livery. The owner of this Porsche 918 Spyder wanted a Martini livery, just not in the traditional sense. Inspiration came in the form of the Porsche crest as well as the bright interior color. The owner decided he wanted to tie those colors into the livery. He also did not want to use actual Martini logos, but rather a rendition of the word Porsche in what would be the Martini logo shape.
The design was created and rendered in-house. We think it looks spectacular. It ties together the interior color as well as the Porsche crest colors. So far, the most popular Martini liveries use either the traditional light blue and red, or are monochromatic. This one is one of a kind.
Before the graphics went on the car, we did a full paint correction. Most of you know that even from factory or the dealership, the paint can have slight imperfections. This often happens during shipping. Rail dust, scratches from wiping the car down, etc, all contribute to less than perfect paint. We knew we needed perfect paint before applying the Xpel Paint Protection Film. Xpel is guaranteed for 10 years. We don't want 10 years with imperfections under there.
After the Xpel film went on, we proceeded to apply the custom Porsche Martini livery.
Making it Slick with Ceramic Pro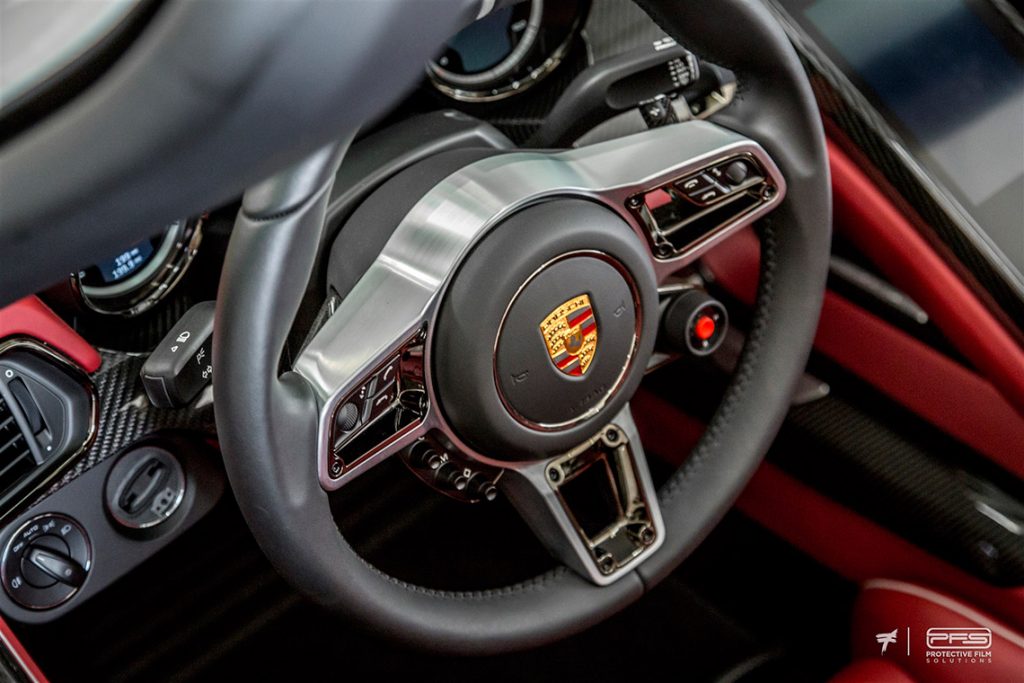 A coat of wax was not going to be enough for this amazing gem of a car. Nope. We wanted the ultimate in slickness, so we coated the entire exterior with Ceramic Pro permanent paint coating. This stuff has a hardness of 9H. For comparison, this is harder than the tempered glass of a windshield.
Because it's so hard, it is very tough to scratch. In order to protect all the carbon fiber interior bits from scratches, we coated them all with Ceramic Pro as well.
To complete the build, we added a custom delrin from skid plate under the front lip. These cars are low. This way, the front end can skid when a curb or speed bump is too high and protect the actual car from damage. Delrin is what downhill longboard speed skaters use as pucks for their leather gloves to slide over asphalt. It's also what sport motorcyclists use on their suits, on the side of their knees to skid over the asphalt while cornering. The stuff does its job.
When you have such a special car, it's absolutely wise to hold yourself from driving it for a few days after you've bought it in order to go through this process of protecting it. Yes, it's tough to have to be so patient after you've bought such an amazing vehicle. However, it'll pay back in protection for years to come. This car is going to look like brand new every time it goes out.