Most car shows are very similar. Awesome cars are parked side by side, sometimes more creatively, but generally in the same fashion.
The only chance to get a glimpse of a super car or hyper car in action is the crawl they do coming in and out of the show. That's a nice chance to get a hint of the deep growling burble of the exhaust with the beautiful hum of the engine below the hood, or rear deck, as is most usual with super cars.
If it's a unique event that takes no issue with noise, you might get a hint of an Aventador revving, or at a closed set, possibly more than that. Think burning tires, a little smoke and yet more glorious noise. In a similar, but much more enhanced fashion, what we are presenting here is what we wish all super car shows could let us experience.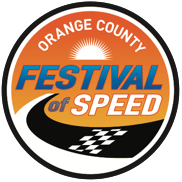 This is the Orange County Festival of Speed. It is in fact, much more than your top of the line car show.
Protective Film Solutions is proud to announce that we are a PLATINUM SPONSOR of the Orange County Festival of Speed 2019.
Orange County Festival of Speed runs for two days at Auto Club Speedway in Fontana California. The dates are January 12 and 13, 2019. That's Saturday and Sunday, all day from 9am to 5pm.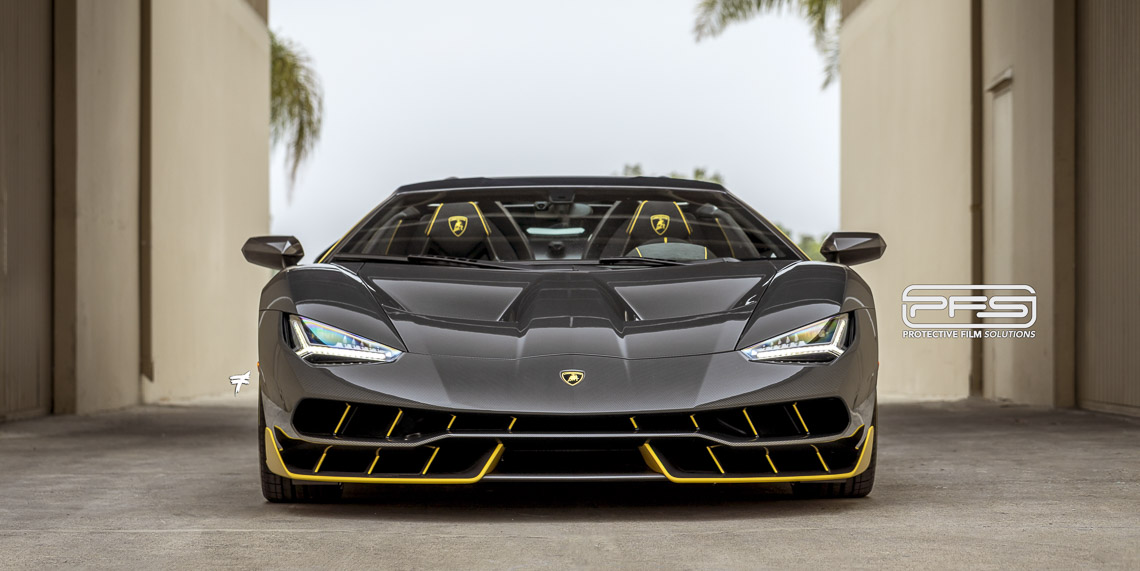 Now, here's what this comes down to. The OC Festival of Speed is a car show that stands apart from the others in a key fundamental way. This is because it's a show of super cars in action. It isn't your typical standstill car show. Even our PFS Open House, as unique as it is, cannot display the true proficiency of these amazing cars.
OC Festival of Speed is not a race. It is a super car and hyper car exhibition at race track speeds, side by side. You can attend races to see cars in action. This is different. This is a chance to see the super cars and hyper cars you have come to know and love, doing what they do best.
Given the PFS clientele, we're sure some of you are not just interested in attending the event as a spectator, but as a participant. This means you have a car that you want to either display in the car show, or ever better, run on the track.
Buy a Ride in a Hyper Car
For the attendees that are not signing up a car for the event, there is a chance for you to interact. The event is selling tickets for ride-alongs. These ride alongs are special because you get the unique opportunity to ride in either a hypercar, racecar or supercar.
You have to understand how unique this opportunity really is. This is particularly important when it comes to the hypercar laps. This opportunity is as rare as opportunities get. You see, a racecar spends a lot of time on the track. It's the natural habitat and the purpose for which they were built. Getting a chance to ride in one is indeed a unique experience and most events do not allow such a thing.
Now, that's great and all. A hyper car on the track however, that is incredibly rare… even more so the chance to ride in one. You see, running these cars on the road is very expensive. The cost per mile is something not to flinch at. But a hyper car on a race track? That is astoundingly expensive. Most hypercar owners keep their vehicle of dreams hidden away in an airtight, climate-controlled bubble. Putting them on the racetrack even for an exhibition is usually left to the manufacturer themselves when they submit their engineering marvels to be tested by the likes of Top Gear and what not. Getting a chance to watch, and furthermore be able to buy tickets to ride in one, is something that doesn't come along every day.
You can purchase ridealongs on the official OC Festival of Speed page BUY A RIDE.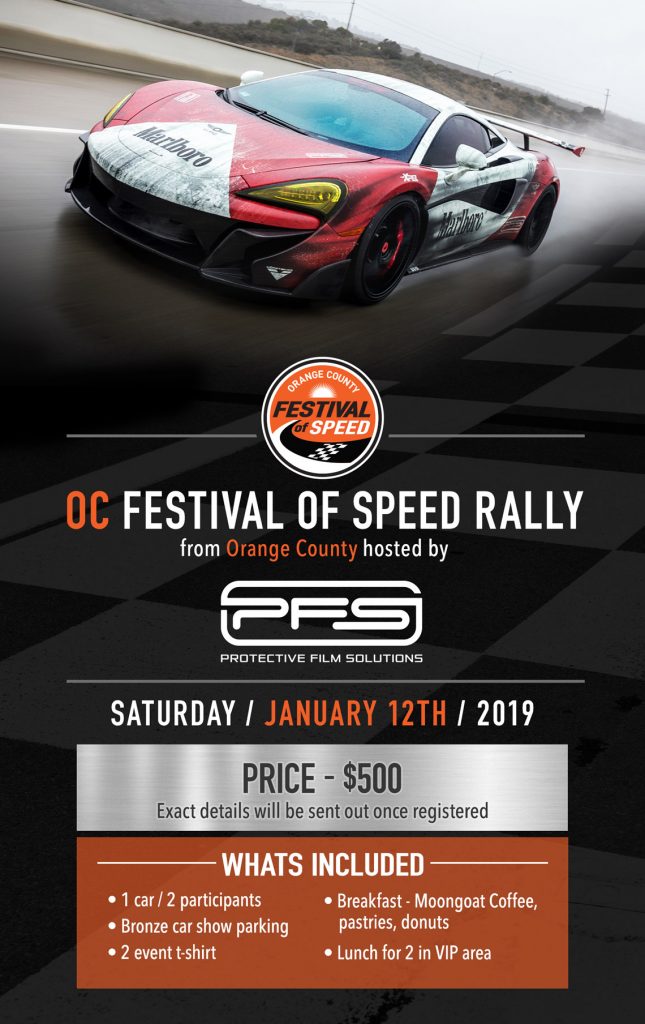 OCFOS Rally
Now, if you have been following Protective Film Solutions on social media for more than 5 minutes you will know that we are heavy proponents of road rallies. We have been a big sponsor of goldRush Rally for many years. We also host and sponsor grassroots rallies such as 70 Mile Saturday.
Orange County Festival of Speed will include a road rally as part of the full program of events. The OCFOS Rally was the first part of the program that immediately compelled us to become a platinum sponsor of the event.
The OCFOS Rally will take place on Saturday. The price for the rally is $500. That includes a spot on the rally for 1 car, two people, one Bronze car show parking spot at the event, two rally shirts, breakfast at start and lunch for two in the VIP Tent.
Registration for the rally is on the same page as the registration for the other event programs.
Come Join Us
Orange County Festival runs for two days at Auto Club Speedway in Fontana California. The dates are January 12 and 13 2019, that's Saturday and Sunday, all day from 9am to 5pm. Setup begins the day before. Keep that in mind if you will be bringing a car. When registering you will be provided with the necessary information for the part of the event you will be participating in.
Look at the OC Festival of Speed Registration page to see the different opportunities available. Here you can find the everything from simple general attendance to the full VIP treatment. Don't forget that the ridealongs must be purchased on the Buy a Ride page on the OCFOS website. Of course, we encourage you to join us for the rally on Saturday as that's one of our favorite parts of the whole event.
If you'd like to share this event with you friends on social media, save the square show flier below to your mobile device and share away.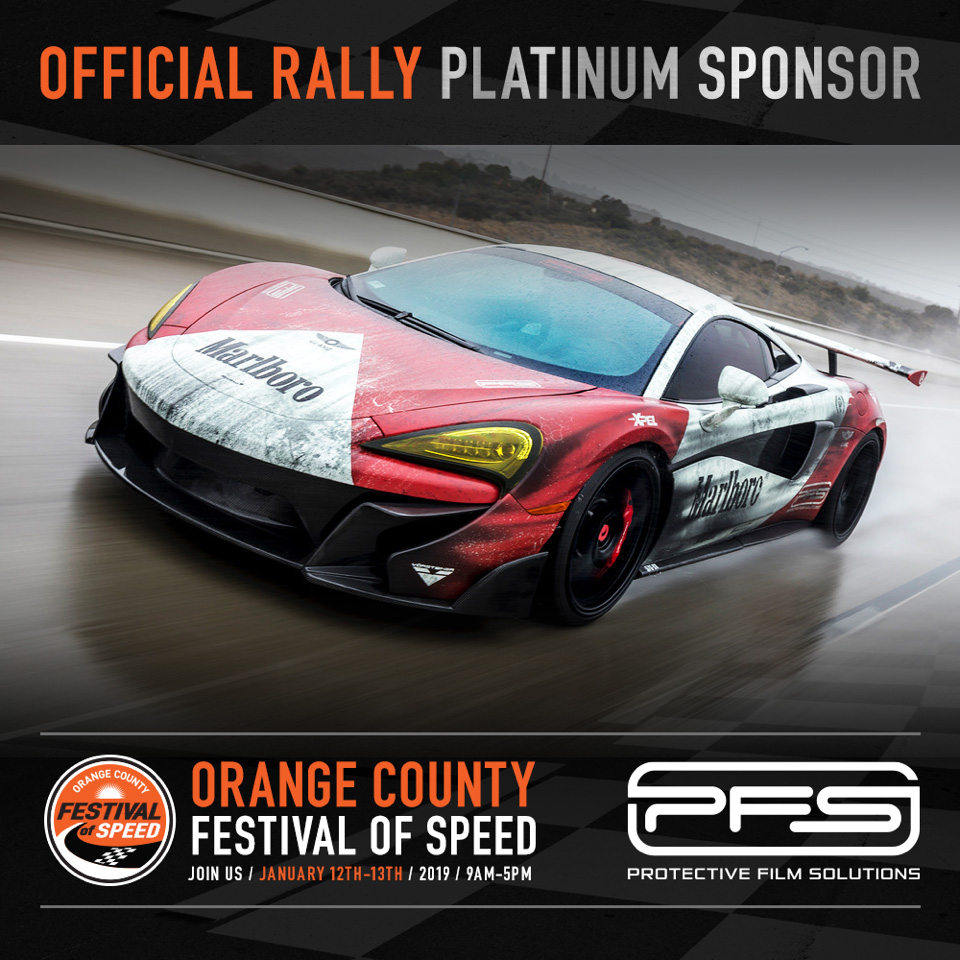 We hope to see you there. PFS will have a tent at the show both days so be sure to stop by and say hello.