The original Protective Film Solutions shop car, a McLaren MP4-12C, saw itself in many different guises during its service. As it's to be expected, the new McLaren 570S shop car will follow in those same footsteps.
The PFS McLaren 570S in Marlboro McLaren livery is described as a 570-VX thanks to the Vorsteiner 570-VX aero package adorning it. As a design platform it offers an outstanding canvas to work on. This is thanks to the car's impressive lines even before any graphics go on.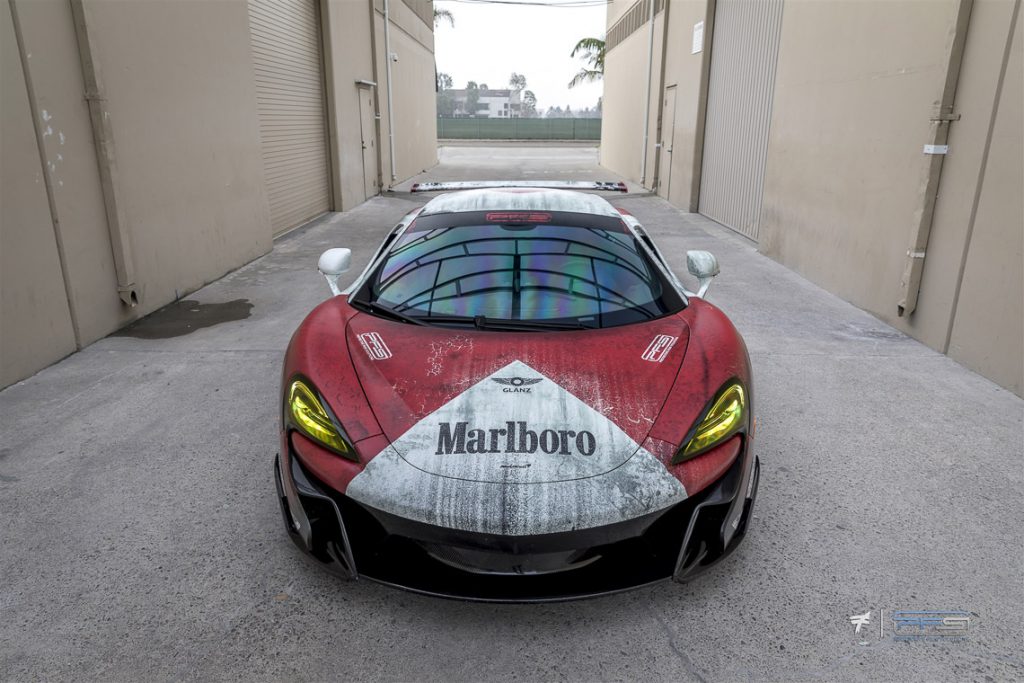 F1 Marlboro McLaren livery
The Marlboro McLaren livery points back to the glory days of F1 racing which featured James Hunt behind the wheel of the McLaren F1 team. To pinpoint the historic importance of this livery we have to look at the 1976 Formula 1 season. While James Hunt's impact on F1 was tremendous, out of 10 overall race wins, he secured his only championship in 1976. Of course, this happened while driving for McLaren under the Marlboro McLaren livery.
On the Protective Film Solutions McLaren 570S, the livery adopted a more artistic approach for the sake of originality. The design was created by artist Scott Kepple, printed and installed at PFS in Orange County, California.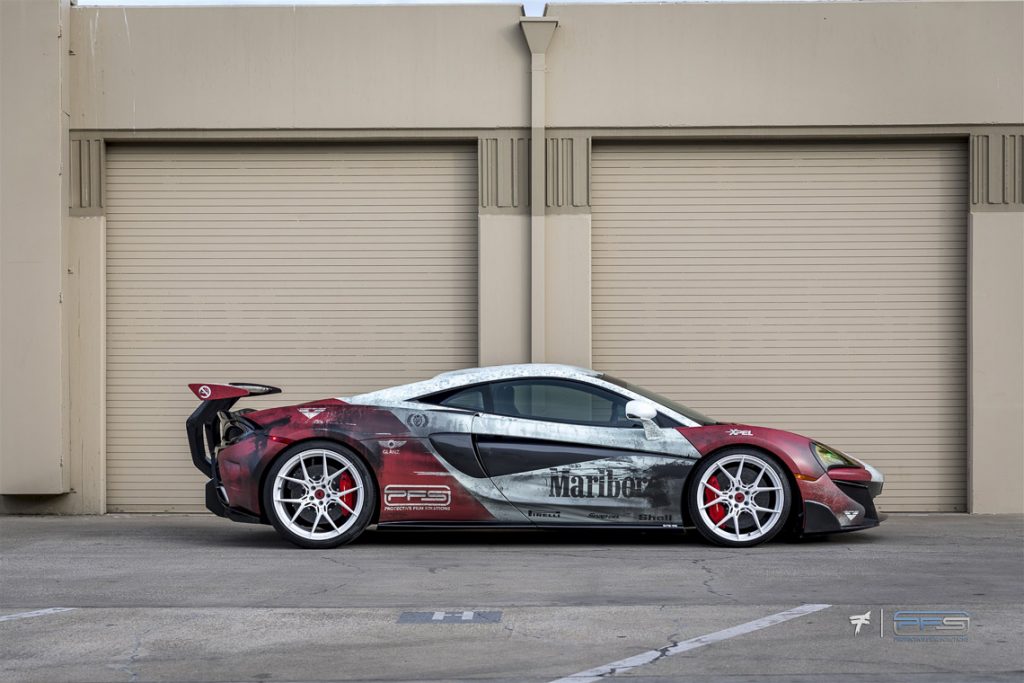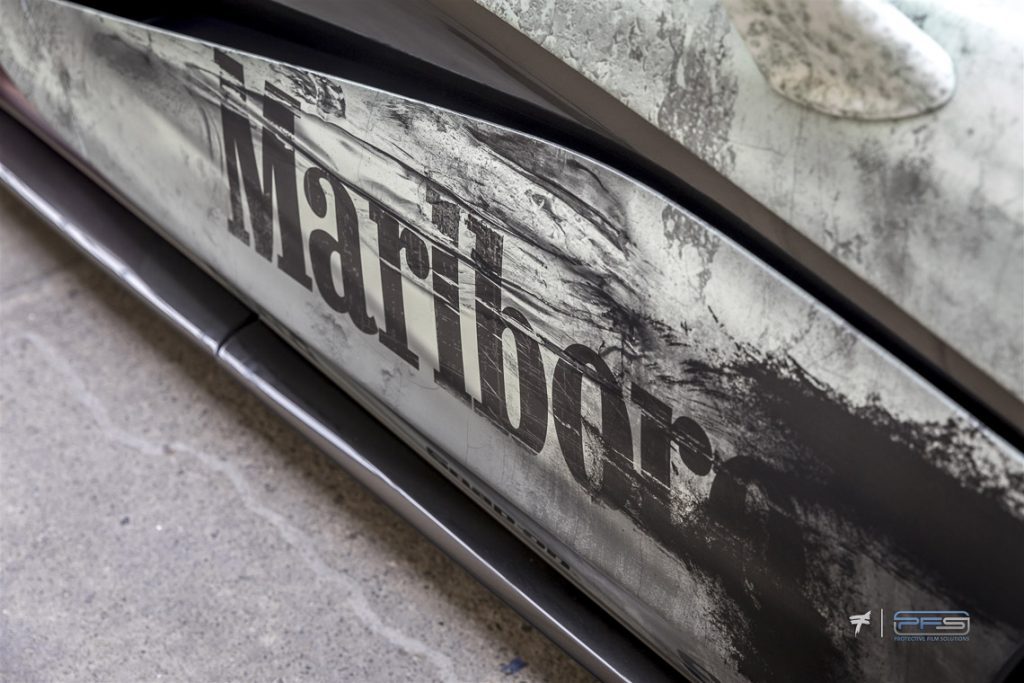 The thing that immediately stands out on this livery is the weathered grunge look. This sort of design is very polarizing. Some people absolutely love it and some not so much. Some people simply prefer the pristine look of a showroom representation of a classic livery. That said however, the biggest drawback of weathered designs is that they can often look fake, or not even close to reality. That's most definitely not the case here.
Even folks that are not too keen on grunge have to admit, this one was done right! The weathered look on this car was obviously done with a remarkable attention to detail. Everything on it oozes with nostalgia.
The details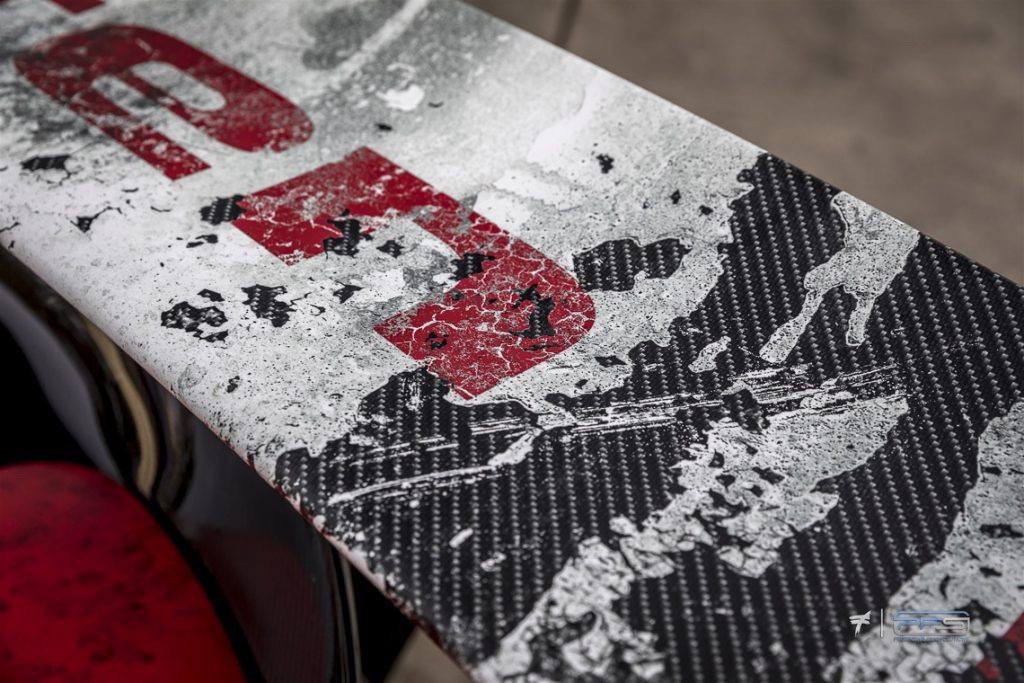 Some key things stand out. The carbon fiber showing through the vinyl rips on the wing look extremely authentic. It's impossible to tell in photos, but this is actually all printed. The rips and even the carbon fiber is all a full color print. They look like you could run your hands over it and feel those rips. Yes, they are smooth, print magic.
Then we have what look like side tire scrapes from open wheel to wheel contact at Brands Hatch circuit. The battle-scar effects are so realistic they almost look 3D. The extra damage behind the front wheels suggest melted rubber flying off the open front wheels so iconic to Formula One.
However, run your hands over the finish and the smooth satin texture is even throughout the entire car. The matte finish allows for a more realistic grunge wrap, since there is no way this level of aging will have a gloss finish.
Not simply looks, but protection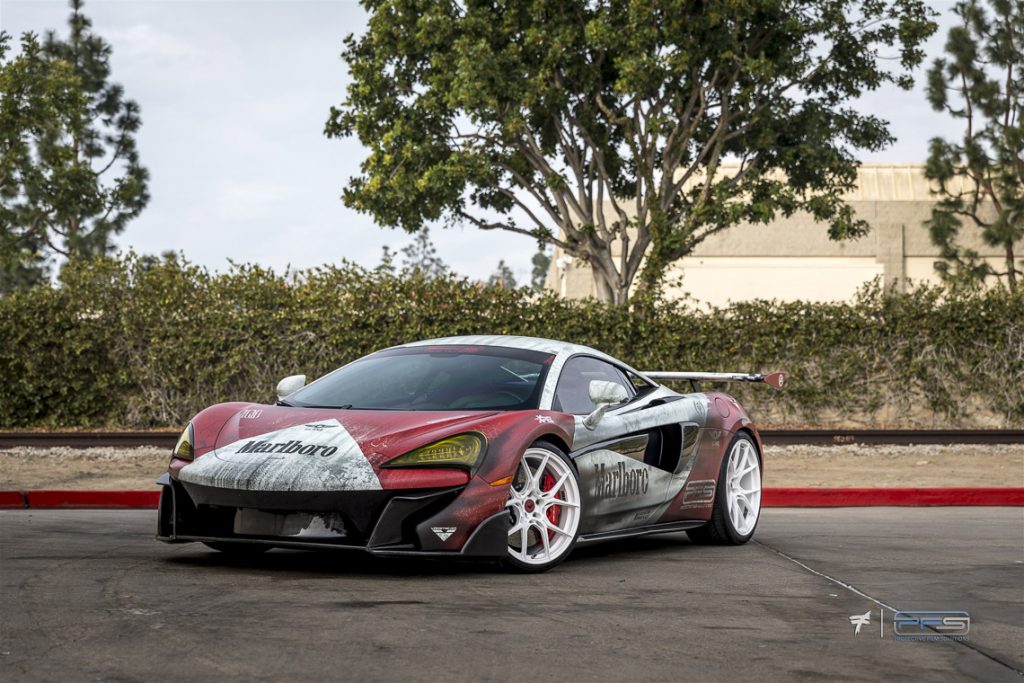 Being Protective Film Solutions, the matte look was achieved using Xpel Stealth paint protection film. This film not only provides the looks necessary for this wrap design, but also protects the wrap itself as well as the original paint below it all. It is not customary to wrap with PPF over a vinyl design, mainly due to how expensive and impractical it is. Remember, the vinyl below is rated to have a shorter lifespan than the protective film above it all. But when it comes to the ultimate design, taking an unconventional approach is often necessary.
The yellow endurance racing headlights help complete the look. We know Formula 1 cars don't have headlights… but this is a road legal car!
The Vorsteiner V-SF 001 Sport Forged wheels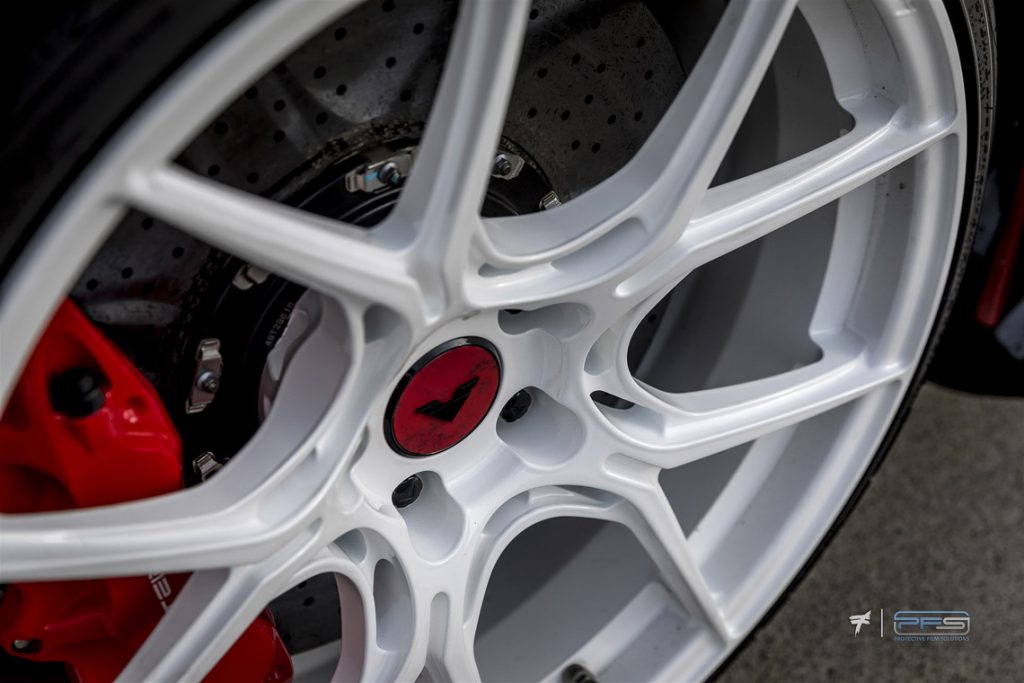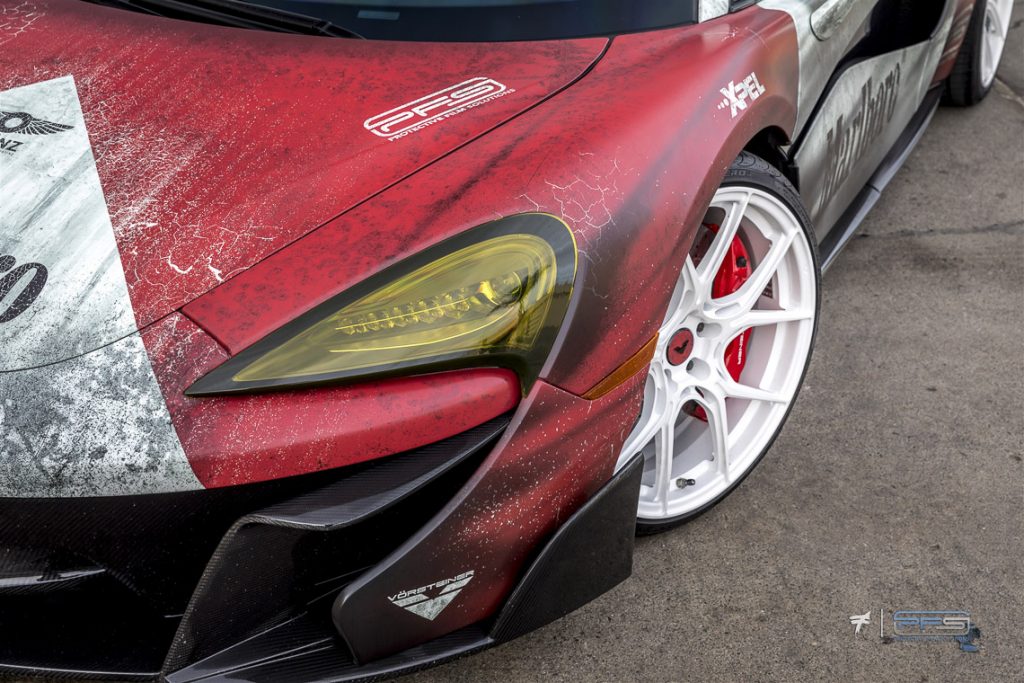 An online search reveals dark or black wheels on all 1976 James Hunt Formula 1 photos. That said, the PFS 570-VX is rocking Vorsteiner V-SF 001 Sport Forged wheels in white. For starters, white wheels photograph so much better than black ones. Secondly, the perfectly clean white wheels quickly suggest a beautifully clean and babied car in deep contrast to the battle-hardened look.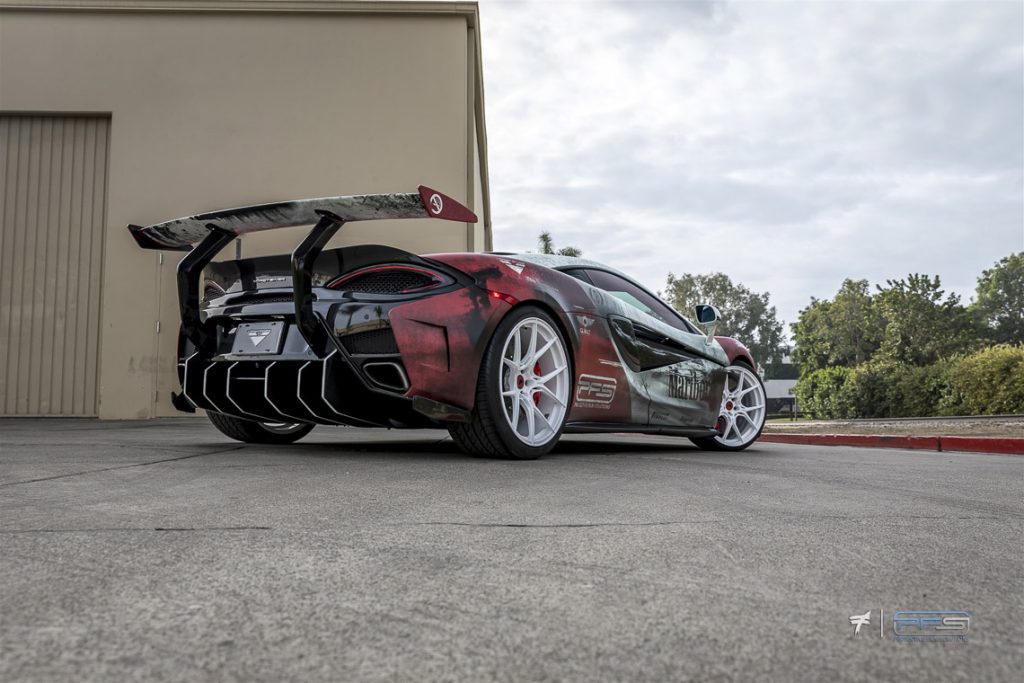 The Protective Film Solutions McLaren 570-VX in F1 McLaren Marlboro livery is nothing less than phenomenal. If you think about it, the design and wrap strike a perfect balance of artistry, craftsmanship, creative thinking and historic significance. Not only that, but it would definitely bring back memories to anyone who followed late 70's Formula One racing. This is one for the books.
Marlboro McLaren Livery 570-VX Photo Gallery
All Photos by Ted 7
If you want to get creative with your super car, the California Protective Film Solutions headquarters in Santa Ana can take your vision to reality. Visit the following pages to learn more about Paint Protection Film in Orange County and Full Color Car Wraps.